Welcome
NEW! FREE RADICALLY UNBOUND RETREAT GET IT HERE:
Retreat Testimonial:
"This was sublime and melted a number of physical spots and energetic blocks. Sharon really is a master intuitive sound healer and even though this was not a private session it was really like she was working just on me. Thank you, much gratitude."

-Joanna F., Australia
BOOK YOUR RADICALLY UNBOUND ASSESSMENT SESSION FOR YOUR OWN CUSTOMIZED EXPERIENCE AT 50% OFF here:
*For first-time clients only
~~~~~~~~~~~~~~~~~~~~~~~~~~~~~~~~~~~~~~~~~~~~~~~~~~~~~~~~~~~~~~~~~~~~~~~~~~~~~~~~~~~~~~~~~~~~~~~~~~~~
Welcome to Harmony Sound Healing! Where your body can feel more in tune with the rest of you so they can work harmoniously again together.
Hi! I'm Sharon Buck, Intuitive Sound Alchemist and Licensed Massage Therapist, Sound Healer, certified Advanced Biofield Tuning Practitioner and Reiki Master. Please check out the rest of my site and let me know if you have any questions.
Get your FREE AUDIO NOW--just click on the pop-up at the top of this page or contact me directly to get your downloadable recording and move from chaos and confusion to clarity and calm in just 20 minutes! (*Note: if you're not an entrepreneur, not to worry, just skip the introduction and go straight to the tuning session)

PERFECT GIFT! Grounding, Clearing and Manifesting Audio.
What better time than now to clear old energy and start bringing in the new! A 10 minute audio meditation using alchemical crystal singing bowls to bring in grounding, clearing and manifesting energy.
Only $27! To access, click here:
PODCASTS~
Check out my podcast interview, "Inspired Conversations" with Amy Schuber can be found here or on any podcast platform:
Podcast Interview in 2020 - "The Soulful Mind" - Listen to my interview, "The Power of Sound"! Check it out on Apple, Google, Sticher and Spotify. Go to the apple link here.
PLEASE NOTE: I am currently seeing clients in person and can travel to you to offer intuitive sound and energy healing sessions as well as bodywork in the Port Ludlow, Port Townsend, Port Hadlock, Chimacum and Marrowstone Island areas.
I also offer virtual energy and sound healing sessions regardless of your location. I've given sessions to clients from as far away as Cairo, Egypt. If you are curious and want to know more, I invite you to check out my Biofield Tuning page as well as the various testimonials about the effectiveness of the work of Biofield Tuning, Reiki and customized-to-you Sound Baths featuring my powerful alchemical crystal singing bowls.
Here's what one happy client had to say after experiencing a virtual sound healing session:
I had never had a sound healing session before so I wasn't sure exactly what to expect. I asked if we could focus on trusting, surrendering and letting go. It was incredibly beautiful listening to the sounds that had been lovingly selected for me. It all seemed to flow together that I felt in a bit of a trance & allowed myself to be carried by the sound. Before I was feeling a little anxious but afterwards I felt an overall peace and went straight to sleep. I noticed a lot of anger coming up for a few days later and which felt like a massive release of energy I had been holding on to. I would highly recommend working with Sharon, she is very gifted and intuitive, you're in safe hands.

~Maria Welsh, UK
I have taken many courses over the years as a Holistic Practitioner from Mindvalley, Hay House, Udemy, to name a few and read many related books but I only had a few practitioners/healers/teachers that have reached me the way Sharon does.... I feel lots of energy flowing, things shifting and realigning and always feel better after her sessions/classes.... thank you so much Sharon ~Barb Bolyea, Ontario, Canada
And more feedback about my virtual sound baths:
As soon as I tuned in to Sharon's sound bath session, I felt a wave of warm healing energy spreading all over my body. There was a sense of peace and bliss in my heart. Sharon was so present during the session, almost as if she merged with the crystal bowls in a beautiful alchemical harmony!

~Irina Devi, New York, New York
that was Amazing..I felt calm, hopeful, I was finally able to feel my future I felt like it really is going to be ok. I believe now-

~Veronica Castro, Santa Cruz, California
And after one of my sound experiences, this person felt inspired to write this beautiful poem:
We're light and sound we sparkle all the while we dance among the stars and float on clouds
We glow as we spiral Powerful light as air Fluid as a raindrop a grain of sand in the universe
We run through every part of the earth as it runs through us
Dance upon the clouds with me Joyful as we shine together bright and brilliant beyond all measure
~Jill C Brown, UK

Feel free to contact me if you have questions or reach out to me to book your healing session.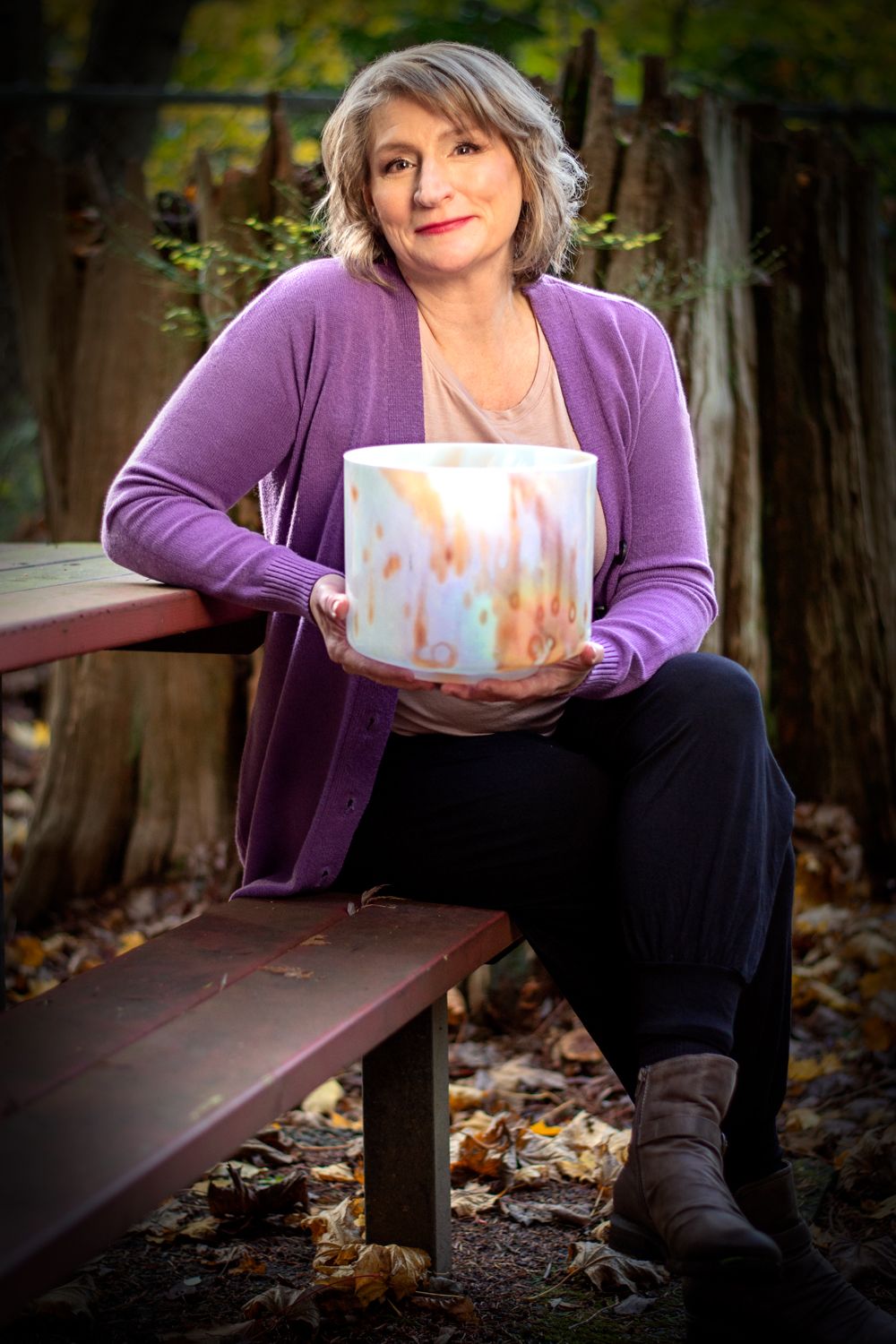 All of my links can be accessed here:
Thanks for visiting, and have a healing and harmonious day!